About Us (Our Path of Success)
Gunatilake Batiks, established their first showroom in 1980 By The Founders Mr.Lionel Goonathilake & Mrs.Lekha Goonathilake, adjacent to the Sri Dhalada Maligawa-Kandy. Art works and designs were drafted by Mrs.Lekha Goonathilake and the Batiks were completed by female Batiks crafters.
In early years, Gunatilake Batiks participated at Exhibitions & competitions organized by National & Provincial Authorities and were awarded around fifteen merit certificates. The Presidential Award for Batiks was awarded in 1992 by the president of Sri Lanka His-Excellency Hon.Ranasinghe Premadasa, for the designs Art work & Quality of Batiks.
After winning the Presidential award, Gunatilake Batiks enhanced into a medium scale entity and thereafter did not participate for exhibitions as entrepreneurs were only allowed to participate. Today Gunatilake Batiks has become the leading high quality handmade Batiks producer in Sri Lanka, while constantly being recommended by all leading tour companies for genuine quality Batiks. All Batiks made by Gunatilake Batiks are guaranteed on product to product basis.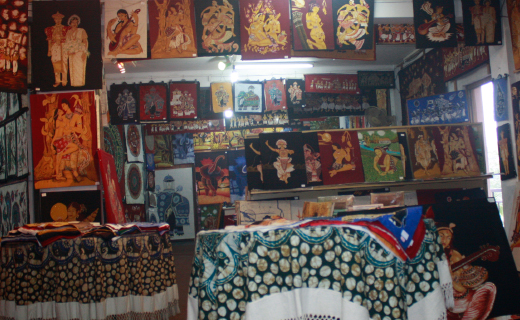 Gunatilake Batiks has more than Twenty Workshops & Factories across the island. Our factories emphasizes on Environmental friendly procedures. Moreover, we have obtained License & Approvals from the 'Central Environmental Authority of Sri Lanka'.
Former-employees are facilitated by us with Necessary infrastructure for production at their households while all designs and raw materials are provided with guidance on new technical approaches for High Quality handmade Batiks.
We are well experienced in Hand made Batiks for more than a successful thirty five years with both Traditional & fashionable Batiks for both local and foreign consumers. Our Team is well experienced, creative, courteous & friendly towards fulfilling Batiks necessities across the island and the globe.
We Serve you with...
01. Provide comprehensive demonstration on Batiks manufacturing procedure for our visitors
02. Workshops & Guidance 0n Batiks productions.
03. Single, biggest store with vast variation of products.
04. Tailor made Batiks products.[We design Batiks as of your requirements]
05. Retail & Wholesale Supply.
Our Team